Residents Benefits Package
At Rock Ridge, our mission is to create a community where our houses become homes and neighbors become friends. We are thrilled to offer premium services through our established partnerships with reclaimed vendors who share our vision of excellence. With our partnership you are entitled to a discounted rate of services that are conveniently bundled together in your resident benefit package.

These services include:

Smart Home
Our Smart Home empowers you to enjoy a truly connected living experience. This package offers a range of innovative features designed to elevate your everyday living by utilizing these key features:
Smart Lock
Smart Thermostat
Smart Door Sensor
Smart Doorbell
Security System
Esusu Credit Reporting
We understand how important credit is to your future and this is why we partner with Esusu Credit Reporting. Esusu is designed to empower your financial success by reporting your on-time rent payments to the leading credit bureaus which contributes to boosting your credit score. Rent, being one of your most significant monthly expenses, deserves recognition which is why we record your punctual payments.

BILT Rental Rewards
BILT Rental Rewards is a revolutionary program that allows you to earn valuable points simply by paying your rent through the BILT application. By making rent payments using your preferred payment method through the BILT application, you can accumulate reward points that can be used for various perks.
Professional Landscaping
We prioritize the beauty and upkeep of your surroundings. We have partnered with a reputable landscaping company that mows and trims your lawn giving you back your personal time.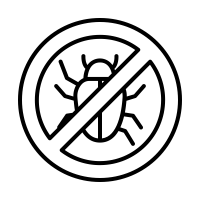 Community Wide Pest Control
We understand the importance of a pest-free living environment which is why we have implemented a comprehensive community-wide pest control program.
Testimonials
"Great customer service! Very friendly, and positive! The neighborhood is nice and clean. I felt welcomed, and I was even provided a iPhone charger while I was there. The agent had information on the school and local events! Great place!" -Monet' D.

- Google Reviewer
"Mandi is incredible" - Felisha K.

- Google Reviewer
"A beautiful place to live … well kept and Rhonda the manager is amazing will go above and beyond to help solve any issues or concerns or just a friendly Hello. She's is professional and very prompt. A very convenient area and quiet neighborhood.. I recommend rockridge as a amazing place to live .. and a 5 star place any day." -Michelle S.

- Google Reviewer
"Best maintenance service since we've lived here in the 3 years in this community. Super friendly and always does a superb job." Ronald B.

- Google Reviewer
"We moved from Tennessee and had to get a place sight unseen property manager Rhonda Frye made our transition smooth. She is so polite and professional I was a little nervous getting a place sight unseen but from the moment she contacted us I was at ease. Once we arrived I was even more impressed. Rhonda got us our keys and maintenence manager Johnathan greeted us and did our walk through. The place was awesome and we thank you both for making a relocation smooth." -Miranda C.

- Google Reviewer